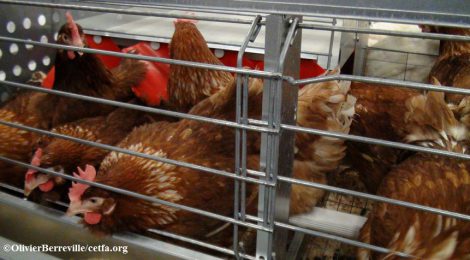 Battery cages and gestation crates are two of the cruelest forms of institutionalized animal abuse in existence, and groups like CETFA — as well as an increasing number of concerned Canadians — are working hard to bring about an end to their use.
Last year, in an effort to convince a major Canadian grocer to move away from these cruel methods of raising animals, Calgary Co-op member Clint Robertson brought forward a motion that read: "That Calgary Co-op phase out the sale of eggs and pork sourced from intensive confinement cages (sow / gestation stalls & battery cages) within the next three years, since this type of intensive confinement has been widely viewed as inhumane, and that in the interim Calgary Co-op work with suppliers to find alternatives not sourced from these types of intensive confinement cages."
The motion was amended from three years to five years, but otherwise approved overwhelmingly in a member vote at the March 2013 AGM. However, it has not been implemented as it has yet to be approved by the Calgary Co-op Board of Directors.
Recently, Calgary Co-op CEO Deane Collinson was featured in an article from Canadian Grocer. In his interview, Mr. Collinson acknowledges increasing public interest for animal welfare and, as a result, makes the commitment that "over the next five years we [the Calgary Co-op] will phase out eggs and pork products from farm operations that use intensive confinement cages. "
While Mr. Collinson's commitment seems to indicate that the March 2013 motion will be approved by the Co-op Board of Directors, CETFA is concerned that the use of the wording "intensive confinement cages" means that another cruel form of confinement, known as "enriched" battery cages, may still be permitted.
"Enriched" cages provide perches, nest boxes and increased space for the animals. However, the space available for nesting or perching is so limited that it forces the hens to compete for access to these resources. Furthermore, animal cruelty investigators have noted that nest boxes and perches are often removed by egg producers who find them time-consuming to clean. The additional space allocated continues to be insufficient to allow the hens to walk about, wing-flap, turn around without difficulty or enact other natural behaviours such as dustbathing, and of course, the cages deprive the animals from access to the outdoors. Finally, hens kept in "enriched" cages are still likely to be debeaked. "Enriched" cages are thus still inhumane intensive confinement systems.
We are thus asking that you politely contact the Calgary Co-op Directors, and ask them to reflect the Co-op commitment to phasing out the sourcing of eggs/pork from cruel intensive confinement cages by adopting at the upcoming March 10 AGM meeting the motion brought forward by Mr. Clint Robertson, and by ensuring that the phase out adopted precludes not only battery cages, but also "enriched" cages for hens.
Please email your letter to governance@calgarycoop.com or mail it to:
Calgary Co-operative Association Limited
110, 151 86th Avenue SE, Calgary, AB T2H 3A5
Thank you for standing with us for Canadian farmed animals.