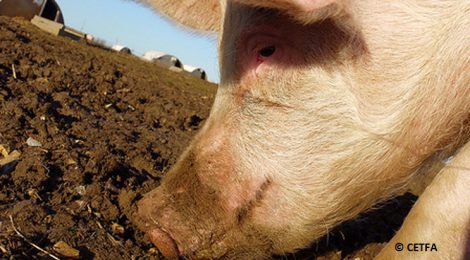 Since 2011, Toronto Pig Save (TPS) has borne witness to the treatment of pigs during transport and inside the Quality Meat Packers slaughterhouse, and hosted regular vigils in front of the slaughter plant. Spearheaded by founder Anita Krajnc, the group has sparked a growing community-based advocacy movement bringing awareness and attention to the plight of pigs.
In today's interview, Anita, who recently received the Compassion for Animals Award at the 28th Annual Vegetarian Food Festival in Toronto, explains how TPS started and provides insight into the development of effective community action for farm animals.
CETFA: Can you tell us how and why TPS started?
Anita: I adopted Mr. Bean for Josey, my mom, when she moved in with me. Mr. Bean, a lanky beagle and whip-it mix from Animal Alliance of Canada's Project Jessie, enriched our lives immeasurably. He also put us deeply in touch with our community, as many dogs inevitably do.
I had been aware of the existence of Quality Meat Packers pig slaughterhouse near where I live in downtown Toronto, and a few times a year I'd think of its jarring presence and exclaim to myself, "Someone ought to do something about that!" However, it was only after Bean entered my life in the late fall of 2010, and the two of us would take our morning walks along Lake Shore Boulevard, that I would find myself faced with scores of transport trucks carrying pigs every day! I'd see the pigs looking out with fear and sadness in their eyes, and with their little snouts poking through the air holes. At the time, I was reading biographies written by Romain Rolland, a vegetarian Nobel laureate, about Tolstoy, Gandhi, Ramakrishna and Vivikananda, and I was impressed at how each of them knew their priorities—when there was an injustice in their community they took action by engaging in community organizing. For example, when there was a famine in Russia in 1891-92, Tolstoy and Sophia, his wife, and their children spent two years setting up 246 soup kitchens, makeshift hospitals and kindergartens. Seeing those transport trucks roaring down Lake Shore every day prompted me to act.
For the first half-year, beginning in December 2010, Toronto Pig Save held monthly vegan potluck organizing meetings. Our mission was simple: to make slaughterhouses have glass walls. Before engaging in public protests, we wanted to collect slaughterhouse footage, so we decided that at this point we'd collect and display artworks which dramatize the lives and personalities of pigs and their suffering in order to create greater awareness (see our webpage "Art to save pigs": http://torontopigsave.org/art-to-help-save-pigs/). Specifically, we collected artworks and photos from artists Sue Coe and graphic novelist Caitlin Black; poster art by Dirk Geisselmann, Louise Jorgensen (TPS's in-house graphic designer), and SauWai Tai; poignant photos from Twyla Francois and Olivier Berreville, along with photos by Jo-Anne McArthur of www.WeAnimals.org, and Julie O'Neill of Photography for a Compassionate World http://www.julieoneill.com/ With these, we organized a number of art shows, including one at Brock University's animal conference, held in the spring of 2011.
In July of 2011, half a year after our launch, we began our weekly vigils to bear witness to the suffering of pigs being transported for slaughter to Quality Meat Packers in downtown Toronto.
 CETFA:  How does TPS use the strategy of bearing witness and grassroots community organization to create change for the animals?
Anita:  Bearing witness at weekly vigils, and using these occasions to spread awareness, is the most important thing TPS does. Since July 2011, we have organized three vigils and/or leafleting events each week, including holidays – that was a promise I made to the pigs!
The strategy of bearing witness has been used to great effect by social movements for centuries, from the Quakers' challenging of slavery to Greenpeace's launching of sailboats into ground zero of nuclear test sites in the 1970 and 80s. I think it's an essential strategy for the animal-rights movement. Being physically present to witness the injustice faced by farm animals throughout their lives enables each of us to more fully empathize with their plight. I have been an animal-rights activist since the early 1990s, but it's only since I joined together with others to collectively bear witness to the cruelty of slaughterhouses that my level of commitment increased by leaps and bounds so that it has become a lifetime priority for me. Other activists, like Gurleen Gill Levitt, our volunteer coordinator, have made similar statements, such as, "I need to be there each week." Kelli Posinelli and her ten-year-old daughter, Jasmine, drive all the way from Oshawa to participate once a week in a vigil as part of Jasmine's home-schooling.
The other key ingredient, which TPS highlights, is community organizing in which everyone is a leader. Since I used to teach a university course in social-movement strategies, I now apply the principles from classic books such as Saul Alinsky's Rules for Radicals and Reveille for Radicals, Lois Gibb (an environmental organizer at Love Canal) along with works by Mahatma Gandhi and, more recently, Eric Mann (founder of the Bus Riders' Union in L.A. and author of Playbook for Progressives).
CETFA: How do you keep people motivated to attend events and bear witness when they have to personally confront the cruel realities of transport and slaughter?
Anita: The paradox that works in our favour is that bearing witness makes activists stronger not weaker. We are present to see the pigs in the transport trucks on "Pig Island" – the busy intersection at Lake Shore and Strachan where the trucks stop at a long set of lights before turning north on Strachan and then east to 677 Wellington St. West, where the pigs are unloaded at Quality Meat Packers. We can sense that collectively we are making a difference. We hold signs and placards, hand out leaflet and bear witness during rush hour—helping the public make the crucial connection with the trapped pigs in the transport trucks and the food that is on their own plates. The concept of being present and intervening in the face of injustice making you stronger not weaker is perfectly captured in a quote from Ramakrishna in the nineteenth century: "But my heart has grown much, much larger, and I have learnt to feel [the suffering of others]." Before our weekly vigils, I was depressed out of a feeling of powerlessness. Now I and so many other activists feel stronger and more determined than ever because we have a course of action we feel makes a difference: holding regular weekly vigils.
Another key facet of our campaign is that we use a very positive Gandhian, love-based approach. Community organizing, by its nature, is very inclusive. Some of our strongest members are omnivores on the road to a vegan diet. For example, Sylvia Fraser, a local resident and internationally-acclaimed author (My Father's House: a Memoir of Incest and of Healing) joined us after seeing us peacefully protesting outside 677 Wellington St. West. Many have joined us because they have a special affinity for pigs; others, because of the visceral connection they feel towards the issue and their desire to be part of a face-to-face, grassroots organization.
CETFA:  You have recently received the Compassion for Animals Award for all your past efforts and dedication to the cause of pigs and other farm animals. Can you tell us about the future of TPS, and how the movement is expanding outside of Toronto, as well as to other species?
Anita: In addition to our weekly vigils, Toronto Pig Save holds special annual events, such as the veggie dog giveaway on Labour Day at Stanley Park across the street from Quality Meat Packers. We hold events all week during the (Un)Royal Agricultural Winter (Un)Fair. We organize a fundraising dinner for the Animals Beyond Borders (Nov. 3, 2012, this year), along with regular fundraisers for farm-animal sanctuaries in Ontario. We are also planning new events that will once again utilize art to create awareness and compassion. Chris Woods, a TPS member and contractor, built us a sow stall, which we will employ along with a money roast in a protest we plan against "pork" subsidies at Queen's Park. With the aid of Sylvia Fraser, we are making a concerted effort to expand our focus through the media and to engage politicians.
At the same time, we are keen on aiding the founding and expansion of other Pig Save groups via our documentary called "Pig Save: Bearing Witness": https://vimeo.com/48428670 supplemented by tips on our website for establishing new groups:http://torontopigsave.org/starting-a-pig-save-like-group-in-your-area/
The very active Hamilton-Burlington Pig Save group, organized by Brenda LaFleshe and Coleen Tew, now holds regular weekly vigils in Burlington outside the aptly named Fearman's pig slaughterhouse. Melbourne Pig Save, which formed this summer, holds huge rallies every six weeks and has a petition drive against sow stalls. We are also planning to participate in the budding movement, launched this year in Paris, to close down all slaughterhouses. Through efforts spearheaded by French-speaking Caroline Audet and Maïna Le Glatin , we will hold our Toronto March to Close Down All Slaughterhouses on June 15, 2013 (http://fermons-les-abattoirs.org/en ) and also touch base with other cities to encourage similar marches throughout the world.
CETFA: What advice do you have for people who want to make a difference for farm animals but do not know where to start, or for people who have been involved but burnt out because they felt ineffective?
Anita: I believe that what the animal-rights movement needs is a massive worldwide grassroots movement where everyone is a leader and where good leadership is defined as encouraging leadership in others and bringing out the best in others. Members of our group do not complain of burnout because of the collective nature of our work, the shared leadership, our Gandhian love-based approach, and the friendships that have developed through our weekly vigils and other events.
I've met some of the most altruistic and kind people in my life at our vigils – people who are willing to sacrifice for the sake of animals and to take care of each other and build a true social-justice movement. I'd like to quote from Eric Mann's Playbook for Progressives on how important it is to "take good care of each other" in social-movement campaigns involving direct action and community organizing. Though Mann's focus is on anti-poverty movements, I think the same lessons apply to all others, including those seeking animal justice. Mann writes: "A transformative organizer must be… deeply generous, 'guided by a great feeling of love.'" As Che Guevara said. "A good retainer pays attention to the conditions of people's lives, their health, their family, and finances, and at times has to be able to offer some concrete help."
Mann speaks of three levels of participation, starting with activists, moving on to organizers and finally to cadres, who devote their entire lives to social change. The civil-rights movement consisted of thousands of campaigns involving millions of activists and thousands of organizers and cadres. With community organizing, we encourage people to become activists and then organizers and then to reach beyond. Every action counts. For example, TPS bought 200 copies of the DVD "Forks Over Knives," which we encouraged people to distribute for screenings at family gatherings, among friends, at work, at school, and at community centres.
Mann also rightly says that participants should not be shy or timid fundraisers because raising money for organizations whose mandate is to save lives is quite literally a matter of life and death. As he says, "In order to be a successful organizer, you have to be a successful fundraiser." He quotes from Cesar Chavez, who along with Dolores Huerta founded the United Farm Workers – both vegetarians who raised money from poor farm workers: "I would go door-to-door to talk to the capesinos. I explained that the dues for the United Farm Workers was $15 a year. I would ask the workers to contribute to the union organizing drive. One worker told me, 'I am very poor. Can I have the dues for $5?' I replied, 'Do you want one-third of your liberation? Are you trying to build a union on sale? If I went into your house would I find a six pack of beer or clothes worth more than $15? If you have money for that, you must have money for the union – if you believe in it. Management is powerful, we must be powerful. The dues are $15, what do you want to do?"
CETFA:  Is there anything else you would like to add?
Anita: Join us, or start a group at a slaughterhouse in your community. . . . You only need two people to have a group. When TPS started holding vigils in the summer of 2011, often it was just Nina Muller and myself carrying placards on "Pig Island" at Lake Shore and Strachan. If we all take action in our communities around slaughterhouses, a mass-based grassroots movement will be born.
I want to end with three quotes, which present a profound understanding of the significance of bearing witness:
 "When the suffering of another creature causes you to feel pain, do not submit to the initial desire to flee from the suffering one, but on the contrary, come closer, as close as you can to her who suffers, and try to help her."
– Leo Tolstoy, "A Calendar of Wisdom"
"Yes, it is a hard thing to witness. It will stay with you forever. Keep in mind that every action has a reaction. This experience will enable you to speak (with credibility) for these departed souls. They did not die in vain. You are now part of their life and they are part of your life. Because you were there for them they now have a voice through you."
– Ric O'Barry, former "Flipper" dolphin-trainer turned dolphin rescuer, featured in the Academy Award-winning documentary "The Cove"
 "Help me, she says, are you here to help me? I cannot help you, he says. We are both helpless. I would free you if I could. But my kind will never be free, she says. Don't give up hope, he says. We will fight for you, we are here for you, we must make people understand. Bless the witness-bearers, for they will help bring about change."
– Sherry Burnett of Ruby Ranch Pig Sanctuary