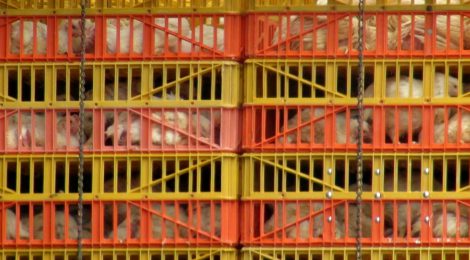 Maple Lodge Farms — a vertically integrated poultry processor that owns breeding, hatching, transport, and most notably, a massive slaughterhouse in Brampton, Ontario has just been found guilty of two counts of animal cruelty.
The slaughterhouse, which kills 500,000 chickens a day (300,000 broilers or "meat" chickens, and 200,000 spent egg-laying hens), claims on its corporate website that animal welfare is one of its priorities, but the company's actual treatment of animals, which has been routinely documented by CETFA inspectors since 2007, tells a very different story. Our inspectors have recorded violent chasing, catching and handling of chickens during loading for transport to the slaughterhouse (see our website GetCrackingCruelty for footage); and a routine lack of protection from inclement weather, and illegal transport conditions (see our report "Broken Wings: The Breakdown of Animal Protection in the Transport and Slaughter of Meat Poultry in Canada").
While this cruelty occurred on a regular basis, the routine arrival of particularly high numbers of dead birds at the Brampton slaughter plant finally led to charges being laid by the Canadian Food Inspection Agency (CFIA). While 60 charges were ultimately laid, two cases served as "representative examples" for the others.
In December 2008, a trailer load of broiler chickens arrived at Maple Lodge slaughterhouse with 711 birds recorded as dead on arrival. In February 2009, another trailer load, this time carrying spent egg-laying hens, arrived with over 1,000 birds recorded as dead on arrival. In both cases, the birds had not been protected from the cold, inclement and wet weather, and as a result, many froze to death during transport.
After a two-year long court case, Judge N.S. Kastner ruled on September 27, and found Maple Lodge Farms guilty on two charges of cruelty to animals. Fifty-eight additional charges remain to be dealt with, and sentencing should take place in a few months.
For more information:
Maple Lodge Farms faces 60 criminal charges as thousands of chickens perish
Maple Lodge Farms guilty of criminal charges after hens freeze to death