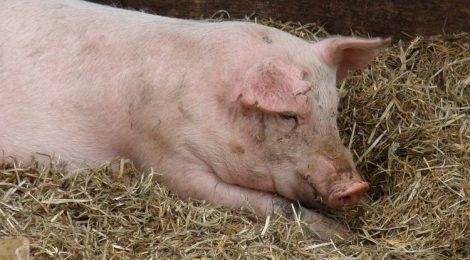 Art has an obvious esthetic purpose, but it can also be used to convey powerful messages about social justice issues, including animal welfare and rights.
Today, we talk with William Buchanan, professional artist and graduate of the Nova Scotia College of Art and Design, about one of his recent paintings, entitled "These Little Pigs".
CETFA: "These Little Pigs" is an acrylic painting representing sows confined in gestation crates, which are cages that confine female breeding pigs for their adult lives in a space so small they cannot even turn around. What inspired you to create this painting?
William Buchanan: There is unabashed needless suffering of these sows when with a little thought their short lives would be much better.  Since we feel the need to eat them, we could nourish our conscience by initiating at least group housing with straw, fresh air and sunshine, although this is not the ultimate end goal.
CETFA: What message do you wish to convey with this painting?
William Buchanan: With their horrific life in pens, even the lowly (supposedly) pigs would trade their lives for sunny skies, mud and water in which to root and express their natural behaviours.
CETFA: Can you tell us more about the title of your artwork, "These Little Pigs"?
William Buchanan: The title is derived from the old stanza "These Little Pigs went to market…" (see the poem below.)
This Little Piggy
This little piggy went to market,
This little piggy stayed at home,
This little piggy had roast beef,
This little piggy had none.
And this little piggy went…
"Wee wee wee" all the way home…
CETFA: Is there anything you would like to add for our blog readers?
William Buchanan: It is a dark, harsh world for farm animals subsisting under corporate dictatorship.  All the bad things we know about confinement and brutality are here in holding factories in the USA and Canada.
To learn more about William Buchanan and see more artwork, please visit: www.artshowbuchanan.com
To learn more about the problems with sow stalls and to get involved with our campaign to ban sow stalls, please visit: helpthepigs.ca