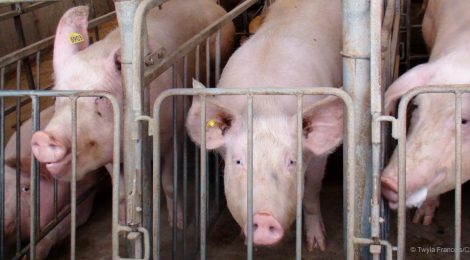 Just a few months ago and seven years after a hard-won campaign which saw improved regulations to prevent barn fires in Manitoba, the Manitoba government announced its intention to repeal the Manitoba Farm Building Code, removing two important forms of protection for farmed animals from barn fires (fire stops on load-bearing walls and the requirement for a water supply to fight fires).
Then, in April, Manitoba Premier Brian Pallister (PC) introduced Bill 24, which calls for the amendment or repeal of 15 pieces of legislation. If adopted, the new legislation would eliminate the ban on the construction of new pig barns and weaken environmental regulations governing the handling and spreading of untreated pig manure.
Manitoba already has 1,379 pig farms, and is currently experiencing yet another outbreak of PED, which sentences piglets to slow, excruciating deaths.  Yet, the industry's new goal — supported by the Pallister government — is to increase pig production by 25 per cent through the addition of 50 to 100 new barns, subjecting another 1.3 million pigs to lives of confinement, deprivation and cruelty.
It's up to us as citizens to prevent this from happening. Please submit your concerns to publicregistry@gov.mb.ca by end of day Friday, May 12.
For more details, see the article in the Huffington Post here.