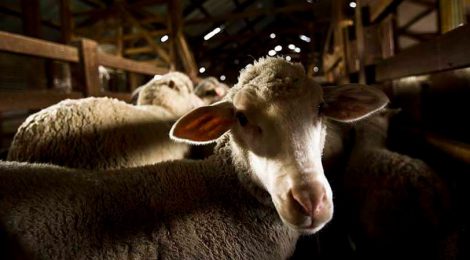 Last fall, for the first time, 500 Canadian sheep were exported to Singapore to be killed in the Korban ritual which takes place annually during Hari Raya Haji celebrations.
Sheep, goats and sometimes cows are sacrificed during the ritual. Traditionally, the fully conscious animals are held down and have their throats sliced by untrained members of the public, which may number over one hundred. The lack of training, along with the participation of such a high number of people, often resulted in the animals' necks being repeatedly sawed into, subjecting the animals to a terrifying and excrutiating death.
Documentation and exposés of similar slaughter practices in Indonesia in 2012 elicited strong international criticism. As a result, last year, the Australian government required that its exporters of livestock for slaughter comply with new conditions. In particular, Australia required that animals be provided with a minimum space of 0.6 sq m in the holding pens, that only trained personnel be allowed to carry out the slaughter, and that the knife used to perform the ritual be twice the length of the animal's neck – all conditions in compliance with internationally accepted animal welfare slaughter standards.
Following the setting of these conditions, last year, 16 Singapore mosques where the ritual was to take place were audited by Australian authorities. While Australia eventually agreed to export over 2,000 sheep following these audits, there was a period of uncertainty as to whether the ritual would have a sufficient supply of animals to take place. In addition, the audit dramatically reduced the number of qualifying mosques able to participate, which in prior years had been around 45.
Feeling that the supply of animals for the ritual may be compromised, the Singapore Mosques Korban Committee (JKMS) began to search for alternative sources of animals, and found that Canadian authorities did not require any welfare audit. As a result, 500 Canadian lambs were exported as a "pilot trial" – a number likely to increase significantly in the years to come.
Most recently, New Zealand banned the live export of animals for slaughter, and Australia may be on its way to doing the same. Meanwhile, the Canadian government not only condones inhumane, long distance live-exports but also disregards the need for any animal welfare assurance upon arrival at destination, including those that require compliance with minimal internationally accepted welfare standards. It is time for Canada to become a more progressive country in terms of animal welfare, and ban the live export of animals for slaughter.
WHAT YOU CAN DO
Send an email or write to:
Gerry Ritz, Agriculture Minister
Dr. Bruce Archibald, President, Canadian Food Inspection Agency
Stephen Harper, Prime Minister
Ask them to stop the live export of sheep to Singapore for the Korban ritual, and to follow New Zealand`s progressive stance by banning the live export of animals for slaughter. 
Sign a petition to ban the live export of Canadian lambs on Change.org:
https://www.change.org/petitions/stop-the-export-of-canadian-sheep-for-cruel-ritual-slaughtering