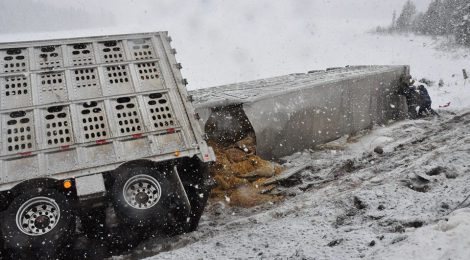 ONTARIO – Two transport trailers carrying cattle were involved in a four trailer crash on Highway 17, west of White River yesterday afternoon.
The Ontario Provincial Police said a westbound trailer lost control while attempting to round a curve and jackknifed, blocking the highway. The second trailer swerved to avoid the crash and piled into the westbound ditch. Two more trailers traveling east drove into the eastbound ditch as they attempted to avoid the jackknifed trailer.
It is not yet known how many animals died as a result of the accident. Observers noted watching "as cattle came through the roof of the truck, some wandering on the road, some dying, some dead." The eyewitness went on to describe the chaos and failure to immediately attend to the suffering animals: "No one knew how to handle the cattle. Not the drivers, nor the police or firemen. They kept the doors of the truck closed as the cattle inside called out in pain."
This latest livestock trailer accident comes just nine days after the turkey trailer roll-over which also happened in Ontario.
In Canada, livestock drivers are not required to have any animal handling training or even know the regulations they are supposed to be observing.
While Canada's agriculture ministry has been promising to update the regulations for years, it has continued to fail to do so. Tell Agriculture Minister Gerry Ritz that this inaction will not be tolerated. Sign the petition here.