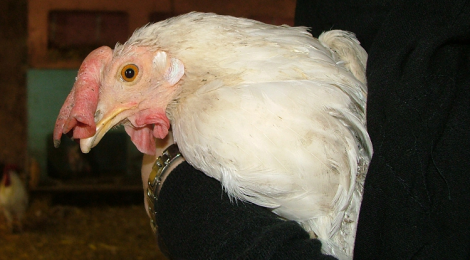 Following the slow beheading of a live chicken by a Alberta College of Art and Design (ACAD) student last month, ACAD fired a school instructor who allegedly allowed the cruel act to be performed as part of a school assignment. Yet, on May 15, ACAD reinstated the instructor amid protests from some art students.
Reference:
Edmonton Journal: ACAD reinstates teacher fired after chicken slaughter

TAKE ACTION:
Contact the Alberta College of Art and Design to express your disapproval that ACAD reinstated the teacher who approved of the student's brutal slaughter of a chicken as "art".
Also, urge the school to  discipline the student who committed this act of cruelty, and adopt a formal policy prohibiting animal cruelty. Also request that the school take steps to counteract the unacceptable message of cruelty and violence promoted by this student's actions and invite CETFA`s humane educator to give a presentation to students, faculty and staff.
CONTACTS
Alberta College of Art and Design
Dr. Daniel Doz, President and CEO
Fax: 403.338.5575
Anne Marie Dorland, Director of Communications
Email: AnneMarie.Dorland@acad.ca
Phone: 403.284.7656