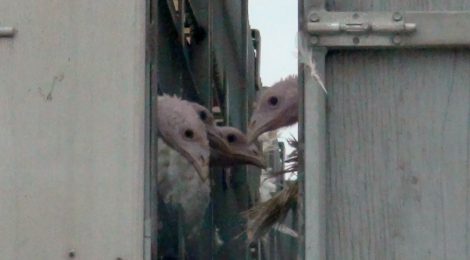 A 52-year-old trucker from Ontario who was recently charged with careless driving resulting in the death of nearly half of the 800 turkeys he was hauling has highlighted the need for improved animal transport regulations in Canada.
CETFA has been advocating for an update to the country's archaic animal transport regulations since the organization's inception nearly 25 years ago.
In Canada, livestock drivers are not required to have any animal handling training or even know the regulations they are supposed to be observing.
Birds such as turkeys have perhaps the worst ordeal of all farmed animals during transport as loading can take hours and once the transport crate they've been loaded into is closed, another is stacked on top of it making access impossible. The birds must stand or sit hunched over, unable to stand or even stretch their legs or wings. Canadian regulations allow birds to be transported like this for up to a unbearable 36 hours without food, water or a break. By contrast, in Europe turkeys being transported for more than 8 hours must be loaded onto trailers with access to onboard water, forced ventilation and temperature sensors and alarms that advise drivers if the temperature becomes too hot or too cold for the birds.
While Canada's agriculture ministry has been promising to update the regulations for years, it has continued to fail to do so. Tell Agriculture Minister Gerry Ritz that this inaction will not be tolerated. Sign the petition here.