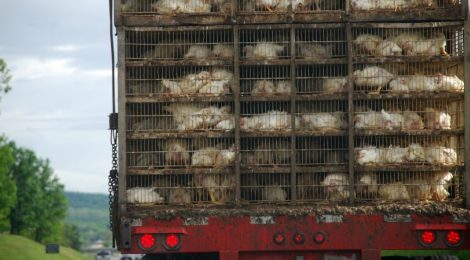 A newly released review by The World Organisation for Animal Health (OIE) has exposed serious problems with Canada's veterinary services – the Canadian Food Inspection Agency (CFIA) in particular. The review is based on an inspection which was conducted by a team of four OIE certified evaluators from March 13-31, 2017.
The review pays considerable attention to the CFIA, noting that it is the agency responsible for enforcing the regulations governing both animal transport and slaughter at federal slaughter plants. Regarding the CFIA's work on animal transport, the OIE flagged the agency's failure to update the regulations for over 10 years, and expressed surprise that "Some politically powerful lobby groups are able to modify technical decisions", noting that when the CFIA finally proposed reducing the maximum transport times animals could legally be transported without food, water or rest, that the agency was 'persuaded' by the livestock and poultry industries to bump the numbers back up "because of negative economic impacts". The OIE pointed out that the final proposed transport regulations (developed to the tastes of industry) fail to meet OIE standards and urged the CFIA to develop animal transport regulations based on documented evidence, and finalize and enact them independent of industry.
The OIE team also focused on the routine lack of veterinary oversight in Canada's provincial slaughterhouses, noting that 56% of the country's sheep are slaughtered in provincial plants, representing a significant number of animals killed and butchered "with little or no inspection or welfare oversight". The report further indicates that: "There is often no routine ante and post mortem inspection at small local slaughterhouses that are managed by the provincial veterinary service" (ie. the provincial Ministries of Agriculture, some of which are known to share a revolving door with industry) and that some provinces fail to even ensure that operators are trained to inspect animals for signs of illness or disease. The evaluators note that animal producers often exploit this fact: "These different situations are known by farmers so they can choose a destination of an animal for slaughter taking into account the quality of the inspection and the risk of condemnation."
Given that Canada has a stated policy of increasing agricultural exports by 40%, even more animals will continue to be transported and killed under conditions considered inhumane by OIE's standards unless something changes.
Tell Jaspinder Komal, the Chief Veterinary Officer of the CFIA, to follow the OIE's recommendation to reduce maximum transport times for all species and put the interests of the animals his agency is charged with protecting before the financial interests of industry.