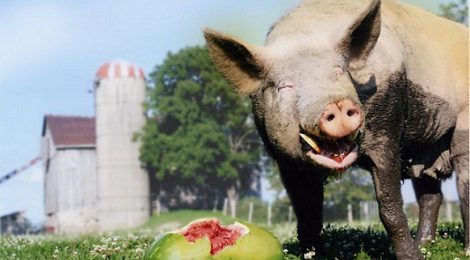 When first learning about routine abuse of farmed animals in modern agriculture, many of us are shocked at first, then wonder what we can do to bring about change. From adopting a compassionate lifestyle to educating others, we can all participate and help make the world a better place for animals.
Promoting compassion and educating people while rescuing abused farmed animals are enormous but important tasks undertaken by a few farmed animal sanctuaries around the country.  In this blog post, the CETFA Rescue Team talks with Siobhan Poole, who, along with her husband and children, operates Cedar Row, a sanctuary for rescued farmed animals located just outside Stratford, Ontario.
CETFA: Siobhan, you have been operating a sanctuary for rescued farmed animals since 1999. How did this adventure begin?
Siobhan: My husband Pete and I used to do wildlife rescue and we cared for countless orphaned baby racoons whose mothers had been killed, until the Minister of Natural Resources changed the rules, which put a stop to our rescue work. Then, we noticed an ad from someone looking for homes for farmed animals. A few weeks later, we were welcoming to our property our first rescues: 6 male goats coming from a farm where they had been stuffed in rabbits cages, with no food and water. The goats were so malnourished, the vet thought they were pygmy goats, but they grew to be 225lb goats when they received the proper care.
CETFA: You have rescued and cared for countless abused farmed animals. How has this changed you and your family?
Siobhan: It's kept us in shape! More seriously, I was pregnant with twins when we started to take in farmed animals, so the children have grown up with the sanctuary and, through our work, have learned at an early age compassion and empathy. We have also met some incredible people over the years who are doing great things.
CETFA: Among all the farmed animals you have rescued, is there one whose story has touched you the most?
Siobhan: Big Tom, our first farmed pig. We received an email from a young girl who was looking for a safe home for 2 farm pigs. They were part of a class project, and at the end of the year they were going to be sent to slaughter. The young girl didn't want this to happen and contacted us to see if we could take them. I always wanted a pig when I was growing up, so we said yes. It was love at first sight when Big Tom and Little John came to us over 11 years ago. Unfortunately, Little John hurt his shoulder which couldn't be fixed, so we had to euthanize him. Big Tom grew to be a 1,000lb gentle giant, who loved life. He lived to be 10 years old before his hips didn't want to work for him anymore.
CETFA: On your website, you suggest that people contact you for working visits to provide needed help to the sanctuary while meeting the animals. Do you think it is important for people, particularly those who live in cities, to meet and interact with farmed animals?
Siobhan: Absolutely. Most city people have little connection with farmed animals. We have opened up our place because we feel it is important for people to meet and interact with farmed animals so they can learn about them and get an appreciation of them. Farmed animals are not different from cats and dogs; they have personalities, are smart. For instance, our pigs know their names, and when we call them, they come running, wagging their tails. You can see the love of life farm animals have when you meet them at Cedar Row.
CETFA: What other means do you use to educate people about the plight of farmed animals?  
Siobhan: Every year,we have a big open house event. It takes a lot of work to get ready for it, and it's a big commitment, but we feel it is necessary to help educate the public about the way farmed animals are treated. This year, we set up a display with a real gestation crate, obtained from a farmer who was going out of business. Female breeding pigs are kept in these gestation crates during most of their pregnancy then are moved to farrowing crates to give birth and then put back into gestation crates. Thus, they spend their entire lives confined until they are 'spent' and taken to slaughter to be processed into sausage. The display certainly accomplished its educational purpose, as even visitors who knew about factory farms and gestation crates were shocked to see the size of the crate, especially when compared to the size of the live pigs who were next to it. In the future, we hope to also present a battery cage.
CETFA: Do you have any advice for people who want to make a difference for farmed animals?
Siobhan: To me, the most important thing that anyone can do to help farmed animals is to stop eating them so the first step is to educate yourself about how farmed animals are raised and start making the connection between what's on your plate and how it got there.
But I think no matter what you do to help animals, the most important is to be committed to it. Cedar Row was one of the first sanctuaries to start in Ontario, and we are a work in progress. We were committed to help animals, and started rescuing a few — and then the sanctuary grew into it.
Another way for people to help, is to support your local sanctuaries, so we can continue taking in or placing animals in need.
CETFA: Is there anything else you would like our blog readers to know about your sanctuary?
Siobhan: Our sanctuary not only takes in regularly new animals, but also helps find homes for many more. For instance, over a period of 6 months, we welcomed to our place 3 new pigs, 2 six-day old goats (who had to be bottle fed) and 15 hens, and helped find homes for 4 pot bellied pigs, 6 ex-battery hens, and 3 farm pigs, including Rusty,  who weighs 800 pounds!
Also, every year, we do a battery cage rescue, rescuing as many hens as we can from the depopulation of a local barn that lets us take as many animals as we can re-home. The depopulation happens every fall, so we will be putting our plea looking for homes later in August.
Cedar Row Farm Sanctuary has presently about 80 animals in its care, and raise about 75% of its own funds through bake sales, yearly open houses and other events. The yearly cost of operating the sanctuary is between $12000 and $15000 per year.
You can help Cedar Row Sanctuary by setting up some working visits, giving a donation, sponsoring an animal, and of course spreading the word about it, for example by liking its Facebook page.