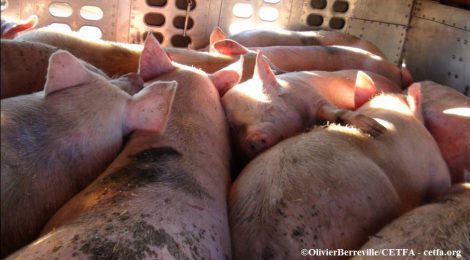 There are currently two electronic petitions that have the potential to dramatically improve the lives of Canadian farmed animals. Please consider signing and sharing them with your friends and family. As they are government petitions, they are only open to Canadian citizens and you must first register through the electronic petition website, but once you've registered, you're free to sign multiple petitions. While the registration requires personal information (your home address, for example), we've been assured that this information will remain confidential. Please consider signing these important petitions.
e-355 (Farm Animal Transportation)
Petition e-355 calls upon the Minister of Agriculture and Agri-Food to publish amended animal transport regulations under the Health of Animals Act to ensure journeys do not exceed eight hours unless vehicles are equipped with on-board watering systems, automatic fans, temperature monitors and alarms; ban the use of electric prods; prohibit sick, diseased or injured animals from being transported except for medical treatment; establish loading densities allowing animals to stand and lie comfortably; ensure animals are not transported during extreme temperatures; and ensure actual enforcement of these regulations. To sign the petition, click here.

e-333 (Use of Animals in Research)
Petition e-333 calls upon the federal government to ban the two most invasive categories of research, which frequently involve pigs and goats. These categories fall under the Canadian Council on Animal Care's Categories of Invasiveness D and E and involve the highest levels of pain and distress to animals. The petition also urges Parliamentarians to call for a re-evaluation of the use of animals given the availability and superiority of modern technological alternatives, urging Canada to become a North American leader in the use of human-based approaches which have proven to be more effective, cost-efficient and humane. To sign the petition, click here.
Thank you for standing up for Canada's farmed animals.