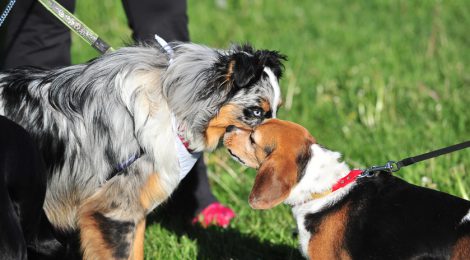 CEFTA is proud to sponsor the upcoming Furry Friend 5K that is planned for Sunday, June 7 at Lake Ontario. We talked to organizer Allison Hansen about the event and how we can all make a difference to help animals.
CETFA: Allison, can you tell us a bit about the Furry Friend 5K event and what the participants can expect?
Allison: The Furry Friends 5k is a one of a kind charity event where participants can run or walk with or without their furry friend (yes we have had cats) to raise funds for animal rescues in Durham Region Ontario. The day starts off with Doga (yoga for humans and their dogs) followed by a 5k run or walk along the beautiful waterfront trail. Along the trail are kiddie pools for the dogs to cool off in and water/treat stations (which greedy dogs, like my Cider, will never leave). We finish off back at a great outdoor park where prizes are awarded to the top fundraisers and finishers with and without dogs.
CETFA: What is your fundraising goal and what are you raising funds for?
Allison: Our fundraising goal is $100,000 for animals in the care of the Humane Society of Durham Region and Homeward Bound Rescue.
CETFA: What is the history of the event and what inspired you to start it?
Allison: This event came to be when myself and my co-founder Caron Shepley decided to bring our passions of fitness and animal welfare together to create a one of a kind event. Both Caron and myself work in the fitness and sport industry and both have a huge love for animals so this event was meant to be.
CETFA: While the focus of the event is companion animals, you kindly invited CETFA to help spread the message of compassion towards farmed animals. Why do you think it is important?
Allison: Inviting CETFA to spread the message of compassion towards farmed animals is incredibly important to myself and Caron because of the understanding that farmed animals are often forgotten. Most people do not consider farmed animals as sentient beings like the animals we share our homes with. Creating a connection between the Furry Friends 5k and CETFA will hopefully bring attention to the fact that millions of animals that suffer greatly in silence to get on most people's plates.
CETFA: So many people want to help animals but don't know where to start or whether they have the skills needed. Do you have advice for people who want to help animals in their own town or province? How can they be involved?
Allison: My advice is to start a conversation with someone in the animal welfare community, look at charity events that are held worldwide and be creative. As discouraging as the plight to help animals is, there are a surprising amount of wonderful people out there that are willing to collaborate with. Great things can come out of taking a risk to start something great for animals.
Our ultimate goal is to start up a race series and have Furry Friends 5k races across Canada to help animal charities of all kinds.
If you are interested in starting up a race in your area of Canada, please do not hesitate to contact myself at Allison@furryfriends5k.ca
CETFA: Thank you to you and Caron for all your work helping animals. Wishing you a very successful event!
—
To register for the event, go to: http://www.furryfriends5k.ca/register