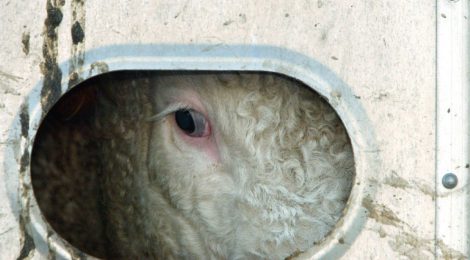 Federal Agriculture Minister Marie-Claude Bibeau announced Wednesday that Canadian cattle and dairy producers will be given a "two-year transition period" before enforcement will begin for the amended Humane Transportation of Animals regulations. The minister also hinted that the regulations meant to protect cattle may be weakened in the process as "more data on effective solutions concerning the transport of cattle" are gathered (specifically, from research conducted by the Beef Cattle Research Council).
The Canadian Cattlemen's Association has been harassing the minister since the regulations were released, most recently at an hour-long meeting during her visit to Canadian Western Agribition just last week.
Bibeau clearly pandered to cattle producers in her statement, saying "Canadians know our ranchers and farmers are committed to the welfare of animals, while fostering a high degree of public trust". Actually, Canadians are highly concerned about cattle producers' practices, which include inflicting third degree burns on animals and cutting off fully innervated horns without painkillers (a 2018 survey showed that just 24% of Canadian cattle producers use pain control during the painful practice – see our blog about it here).
Canada has the dubious honour of having the longest maximum transport times in the developed world. Under the new rules, which took an astounding 43 years to draft, cows can be transported for 36 hours, down only slightly from 48 hours under the previous regulations. In the United States, the maximum transport time for cattle is 28 hours, and in the European Union it is just eight hours, yet the 36 hours is what the cattle producers are taking issue with.
As for the dairy producers, under the new regulations, calves torn away from their mothers just after birth may be transported for up to 12 hours without food, water and rest, down from 18 hours. Dairy producers claim that the new lowered maximum will force them to slaughter the animals when they are born, rather than send them to the veal market. The animals the producers are speaking about are male calves, animals who are already routinely bludgeoned on-farm due to the simple fact that they were not born female and therefore cannot be exploited for milk.
The new regulations took years to draft and release and yet already fail to meet international standards. In fact, in a review of Canada's veterinary services (the Canadian Food Inspection Agency in particular) released by the World Organisation for Animal Health (OIE) last year, the authors expressed surprise that "[s]ome politically powerful lobby groups are able to modify technical decisions"(specifically noting industry interference on maximum transport times) and warned that the new regulations must be finalized and enacted independentof industry (see our blog about this here). The federal government has a responsibility to protect Canada's farmed animals, and should not pander to industry demands.
Sign our petition to Minister Bibeau demanding that she not allow the industry to dictate animal transport regulations and enforcement.